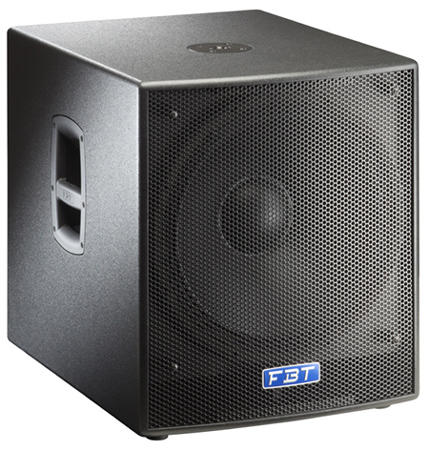 FBT SUBLINE 18SA Active Subwoofer 1200w
FBT Audio
FBT-Subline18SA
The SUBLINE series consists of 12Sa, 15Sa, 18Sa and 218SA active subwoofers, and a passive model 18S and 218S, built in birch 5/8" plywood with scratch & scuff resistant paint finish.
Aimed to extend the low frequency response to a wide range of FBT speaker systems. Designed in 2x18" and 18" bass-reflex, 15" and 12" band-pass. They have Class D amplifiers, switch mode power supply and Digital Signal Processor with presets to match any other FBT speaker. IN/OUT stereo, it is possible to use only one subwoofer with Left and Right satellites.
Additional optional wheels, ergonomic integrated carrying handles and light cabinet allow an easy transport.
Bass-reflex design Subwoofer
460mm (18") high excursion woofer with 75mm (3") voice coil, custom made for FBT by B&C
Frequency response from 33Hz - 120Hz
1200W RMS Class D power amplifier with switch mode power supply
Digital Signal Processor with 6 presets, 3 equalization with 2 LPF Crossover Settings, Digital 6 step delay line
Control Panel with Stereo XLR in/outs, Volume, EQ Presets, Delay, Phase Reversal Switch 0°-180°, 3 status LED Indicators
15mm (5/8") Baltic birch plywood cabinet with scratch & scuff resistant paint finish
M20 (20mm) top mount speaker stand socket, two aluminum carrying handles
Provides additional low frequency reinforcement when used along with 2 - way EvoMaxX speakers. 
| | |
| --- | --- |
| Configuration: | 1 way |
| Built-in amplifier LF/HF: | 1200 W RMS |
| Built-in amplifier peak LF/HF: | 2400 W |
| Frequency response: | 33Hz - 140Hz -6dB |
| Low Frequency woofer: | 460 bobina 75 inch |
| Maximum SPL cont/peak: | 133 / 137 dB |
| Dispersion: | omnidirezionale HxV |
| Input impedance: | 22 Kohm |
| Crossover Frequency: | 80 / 120Hz KHz |
| AC Power requirements: | 800 VA |
| Input connector: | Stereo XLR con loop  |
| Power cord: | 5 m/ft |
| Net Dimension (WxHxD): | 510 x 629 x 650 mm/inch |
| Net Weight: | 42 kg/lb |
| Transport Dimension (WxHxD): | 700 x 790 x 800 mm/inch |
| Transport Weight: | 53 Kg/lb |